You may think – Why does she put M83 song while talking about Budapest?
I agree might be a bit off topic, but let me show you my side of the city. The angle that I believe everyone should discover and yes, maybe it is not the best way to discover the city at the first attempt. In the end you have to see the beauty of Buda and Pest. To start with Gellert Hill, Parliament Building, Hosok Tere (Heroes Square) or the Margharet Island. However, Budapest has much more to offer for you to feel the place and understand the rhythm of the city.
As an insomniac, I have always been a night person. I love cities by night. My biggest dreams and plans always appear during the night in the places that simply can inspire me. I truly believe that each place has its soul and we can connect with the city same way as we do with the person. We can fall in love and we can create some kind of relationship with it. We will be doing everything to come back, to get in platonic touch with the city and experience all its secrets. To get to know better and understand. Also for a traveler or a tourist – it can mean a one night stand, so let's try to take the best out of it! So yes my dear Budapest, let's share our story.
In order to get into the night feeling of the city, I have decided to make a kind of different trip. Not necessarily focusing on the main places in the city, but to discover the place deeper. The first day I spent purely on the main sights, from the second day the real plot has started.
It is worth saying that I have been travelling to Hungary with my Parents since I was 4 years old until 15, so I know the food and culture pretty well, however, my first time with the capital happened just recently in 2017.
Children on Duty
First stop was a Children on Duty train. Basically the whole thing is led by kids from 10 till 14 years old. They sell you tickets, operate the train, call in the last passengers and make sure you are behaving well at the station! At first glance it can seem a bit ridiculous, but if you let yourself into the situation you start getting into the Doogie Howser series. You kind of get that weird feeling that maybe we are all working adults being kids inside? Or maybe the world is accelerating too much and we are all getting into adulthood too early? Or maybe we all underestimate the naive children's world and they actually can do more? I don't know… Just my thoughts. Second thought I had, while I saw a boy dressed in kind of old-style uniform was… Oliver Twist. Yeah… of course those kids have completely different lives!
Don't get me wrong. I get that this is volunteering and gives them amazing opportunity to learn responsibility and do something different and fun, but then… shouldn't they live their kids' lives? Like if you let yourself in the situation being surrounded by beautiful nature and views, you get those weird thoughts and personally I have had very good feeling but also started to wonder is it the way I would like to have my childhood – from the perspective of time or am I happy with being careless longer!
>>> http://www.gyermekvasut.hu/english_eng/introduction/
Hospital in The Rock
While getting back from the trip train, it is easy to reach the old nuclear bunker or actually the old hospital set in the previously nuclear bunker. You get the guided trip every hour in English and then you teleport yourself into the times of the war. This is an old hospital, so you get a bit of a chill from that. Then when you see that it has those bunker elements the whole darkness of the place seems just overwhelming! Videos, letters, notes, memories – this all just make you speechless after leaving the place. We are so damn lucky to have normal hospitals! Something to experience, something to see. Of course probably exaggerated (or not?!) for the commercial purposes, but makes you appreciate the modern times in a way.
There was also a Polish accent there!
Polish radio program (Z kraju i ze świata) – 10th of December 195
Anna Retmaniak radio reporter, the Special Correspondent of the Polish Radio, accompanied the first transport of aid supply sent from Poland. During her trip to Hungary, she visited the Hospital in the Rock.
>>> https://www.sziklakorhaz.eu/en/archive/memories
Libraries
Something amazing about Budapest is that wherever you go, you'll get stuck in some random place where you discover amazing spot. Walking toward the Gellert Hill I have found a library – Orszagos Szechenyi Koenyvtar (of course I checked it out online how to write it!). Now you will tell me… it is the first national library in Budapest. Everyone knows about it. True. It is in the castle that millions of visitors go and see every year, but I was still happy like a baby to go inside and see the manuscripts, feel old books and admire the silence of the place.
Below you can find some links to famous libraries in the city. I haven't been there, but looking at their websites they look simply… inspiring.
>>> http://www.fszek.hu/english/our_libraries/central_library/?article_hid=7448
>>> http://seaslib.elte.hu/ – this one looks the coolest! I can't imagine I have missed it! First of all it is the English and German literature, which I am in love with. Secondly – it looks like a country yard. Must be the experience.
Then you head to Gellert Hill and you visit mesmerizing Cave Church, I was lucky and saw a display of the modern art on my way up the hill. Unfortunately, I have lost some photos when my phone broke down, so I can't share neither photos nor the name of the artist … (Hungarian is not the easiest language!). I wonder – how the hell people has built this church? Like nowadays the buildings created are falling down after few years, because the construction wasn't the best, probably the investment too low etc. But at least we have the tools. Back in times… only human hands. My mind simply cannot process it.
Another things worth seeing during the day to get ready for the night:
Then you enter into the nightlife…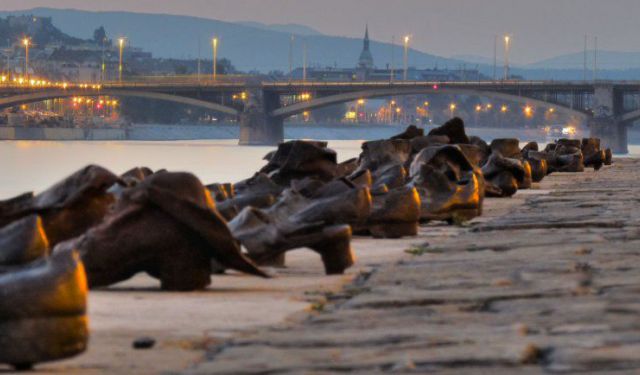 The thing not to miss in Budapest is the night cruise. The views are breathtaking. Have a glass of wine during the cruise and just free your thoughts in your mind. You think that a lot of cities are lit at night. Normal stuff. But there is something in this city, that makes it stand out. Maybe because the colors are very well-thought. Everything has the same light color which mixed with the old bricks of buildings is mixed into Gold. Maybe because all the monuments seem like big stains in the darkness if you see them from the further distance. Maybe cause.. it is Budapest and I have had the connection with the place, so felt it more. Maybe it was wine… Well who knows?! But it got into me. I wrote a separate post on my Budapest solo travelling and there you can see what an impact city had on me. Quite relevant one 😉 (https://run-klaudia-run.com/2017/08/01/simply-solo-travelling/)
Then you leave the boat and go straight to the Jewish District to experience the real nightlife. Pubs, Jazz music, Beer, food… Some places that I strongly recommend!
Ruin Bars in Budapest: Mazel Tov, Kertem (must see!)
Kisuzem: I was lucky to hear little part of the life jazz concert
Aurora: a bit bohemian place, filled with locals, great experience with not many tourists
After seeing and experiencing those things and a bit of wine and good food (below) – walking back at 2 a.m. in the morning back to the airbnb with the view at the Cathedral I guess you can imagine why I have had this song in my head. Mixed with the sound of the Budapest soul. Music and People around. Yes, the culture is very different from the Italian one that is around me. Maybe they ar a bit colder, maybe less extroverts, but this is the signature of each place. Different culture and approach. You can't have enough of it and the first thing you got in your head after coming back home is… when am I going to be back.
I hope that now you understand why this 'city is my church, it wraps me in the sparkling twilight'.
Budapest, see you soon.
Little things to help you to conquer this unsettled heart!
Moving around
Metro and trams are super cheap. Just buy few single tickets at the airport at the kiosk and you will be completely fine. You cannot miss the famous tram no. 2 and the oldest metro line 1 with really cool stops that makes you feel as if you were in another era.
Food
Hungarian Cuisine is very heavy, so if you are travelling in the summer (like I did), you'd struggle with trying all their best dishes, but there are some must eat things, that yes, you will probably need a digestive nap in your hotel afterwards, but you cannot miss them out!
Perkelt simply Goulash – be careful can be pretty spicy as for the European standards!
Paprikas – not easy to explain, but imagine mix of peppers, meet and rice. Can't go wrong! 😉 
Langos – I recommend with garlic sauce and cheese – very typical one. Of course, if you are not planning to kiss anyone for the next two days! Pretty strong flavors!
Ruszwurm Cake – simply heaven in your mouth >>> http://www.ruszwurm.hu/en/
Tokaj Wine (e.g. Aszu) and Palinka – shall I really convince you to try this?