Living in Poland for 23 years. Did I get bored? Probably yes, but… maybe I just got too used to it, that I wanted a new challenge. I don't know myself. I wasn't fed up. I wasn't unhappy. I didn't have to. I just left. For myself. First year – I was at least twice a quarter at home. I hate flying (I am scared as f**k!!!), but I made it to sometimes 'score' 6-8 flights per month – home, for work, travelling. Personally I am really surprised, I didn't have stroke on the plane by now or head full of grey hair! (prosecco is a great cure). Anyway, then.. I started to be in Poland less and less often. Why? Because I was meeting my Family and Friends outside Poland. I am in touch with them on a daily basis (as mentioned before, I text – don't Skype or call.. I just find it boring after first 2 min unless you have something specific to talk about 😉 ) What's the point of above senseless 'stream of consciousness'? That actually there are things I DO miss in Poland. Saying that, I would have never suspected myself to do so! Just few days ago, I went for a very quick trip home. I would say that travelling home took me more time than actually being home. One hour to the airport by taxi and bus, two-hour long flight, rented car and 350km trip home – total of around 9 hours. But it was worth it! Cause it made me realize some very important things, that despite Family and Friends I visit Poland for some other reasons and for those reasons I believe all of you should visit my country at least once.
Architecture & History
To start with – I know nothing about architecture and just a bit more about history, but what I love about Poland, that even if you are not a specialist, you can feel this specific atmosphere everywhere. Each place has its spirit. The ghosts of past are everywhere and it doesn't matter if the story of the place is happy or less fortunate, you feel mesmerized by the place, as if you were in different times or it simply inspires you to think. About anything. I love old buildings, lovely restaurants and magnificent cathedrals or castles everywhere. Possibly it is me being very sentimental, but I do love the way our cities have been built, but also developed in the modern times. It's very Western, but still with our Slavic element. Driving through Wroclaw or walking in Gliwice with my Friend, just made me realize that this is a place I will always call my home.
Although… there are many reasons I don't belong there, but this is the great subject for the next post, so let's focus on other things that make me sentimental (yes… me.)
my hometown – Bielsko Biala
Style
I am very sad to admit it, but since I am in the UK I kind of stopped (temporary!) caring about the way I look. I have never reached the point to leave the house with completely no make up or in the old tracksuit, but still… looking at my wardrobe, I can tell that I became lazy. The reason for that is very simple. In the UK, people do not judge you (at least not openly). In Poland – they do. You feel it everywhere. A bit of fat on your belly or no most trendy top in your wardrobe and people already put you in some kind of drawer. Is it good? No. Do I miss it? Yes. As you might have noticed, I will ask my favorite question here now.. Why? I miss it, because it made some pressure on me to make an effort. I like fashion. I like observing people and despite not like being observed, I should be aware, that people do that and why not play with your look to make things interesting? I don't say follow all trends blindly, but maybe set up your own, special ones! I think fashion is fun and I have been always jealous inside of people that have this something that give them so much courage and creativity. What I must say here… in Poland I notice myself observing people, in a positive way, much more often. It is because of rat-race, but who said it is a bad thing.. to some extent.
Food
Pieeeeroooogi… I din't have time to try them this time, but this is something I love and no one does better ones that my Grandma. She is amazing because of so many things, but Pierogi make her super special! 😉 I don't cook much in here, as for one person that doesn't make sense and Polish food is also very fat, so you can't eat too much of it yourself unless you are trying to be a sumo fighter (believe it or not, I am not!). Polish cuisine is very different and we have some specific specialties, that other Western countries don't. We would pickle everything and add cabbage to anything, but this is something I love. I grew up on this and I miss it. What I also miss particularly.. Jagodzianki… Just look below…
Language
I miss Polish language. I miss it a lot. I don't have too many opportunities to speak it in here. I have one close Polish Friend and we don't see each other as often as I would like to, so in the end I exchange few sentences in a week at work and then English everywhere. Not that I don't like it, but it makes me so happy to speak in my mother tongue! And yes.. when a foreigner says even three words in Polish, they already have my heart 😉 I appreciate any effort with Polish. It apparently is super difficulty. Obviously as a native, I don't see it, but I find it sometimes funny (good funny), when my Friends try to pronounce something (I must say though that my Italian Friend is really good with this! She's natural! 😉 ). So do I miss all the 'sz', 'cz', 'rz', dzi'.. yes, I do!
Yes.. this is one verb to play:
Views and Nature
The nature is so beautiful. I think I haven't appreciated it enough, while living there. I had amazing view from window and I just took it from granted. I would never live in the countryside again, but.. it has something again magical. Beautiful hills, powerful mountains and various trees. Wild animals. I love just looking at it. You would see me very often in my house in my room, just staring through the window and appreciating the view I actually ignored for most of my life.
not from my window: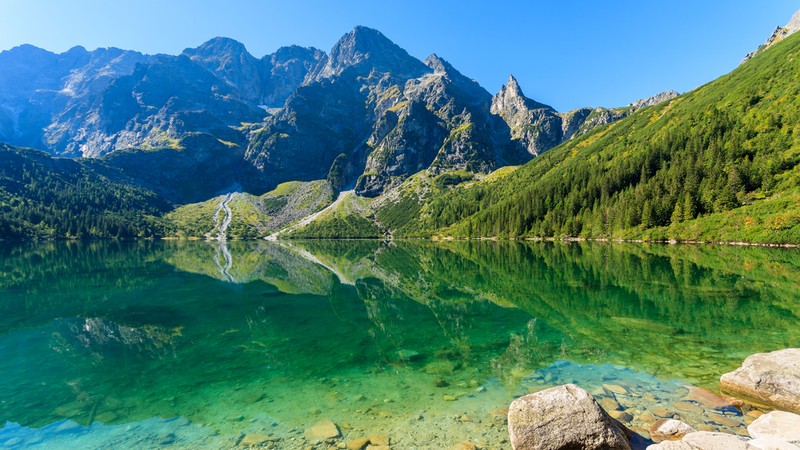 There are so many small things that I realize I am missing every day when I visit my country, on a daily basis I wouldn't even notice them back in Poland but now they have completely different meaning. The place you grew up, flavors, nature.. it all stays within you and only those elements are able to make you feel like home.
In the end it seems to be truth…